(In)Courage Review & $35 Give Away
I am head-over-heels in LOVE with this cross!!!
Stunning!
Gorgeous!
Spectacular!
Sheer joy is the only way to describe my emotions when the delivery guys left this package on my door. From the minute I opened it and did a sweet little happy dance! No…really, I did!
Right now I have it sitting on my desk so I can look at it all the time. The words on the cross
(
thankful, believe, family, peace, harmony, blesses, hope, comfort, love, remember, grace, friends, joy, heart, gratitude, faith)
are a beautiful reminder of what's really important!
What is even more incredible about this sweet little goody from (in)courage is that I am blessed to be able to share with one of you a $35 coupon code (shipping charges will apply to your order) to use on whatever your heart desires at the (in)courage/dayspring cards store.
Oh yeah…I get a goody and SO DO YOU!!!

Jennifer from Studio JRU created this decorative wooden cross as part of a new collection especially for us. Painted by hand, no two are exactly the same and each one has her personal touch. We love displaying them on walls, shelves, or counters to add encouragement and style to the spaces where we live—or sharing them with friends and family as one-of-a-kind gifts.
To find out more about Jennifer and read her story stop by
Studio JRU – Guided & Inspired by HIM
www.studiojru.com
You can enter the giveaway in a few different ways! You can be entered into the giveaway up to 3 times by doing and or all three things below;
1. Leave a comment on this post…it's just that simple!
2. Twitter or Facebook about the giveaway!
Here is a sample tweet:  @Mels_World is giving away a $35 coupon code for @incourage and @daypringcards products this week! http://tinyurl.com/3p79qmm
3.  Like Mel's World with Melissa Mashburn on Facebook or Subscribe via Google connect. (over to the right in the sidebar!)
Leave a comment for each action you do. (up to 3 comments)
Give away will be drawn on Saturday, April 23rd at noon EST.
*** Congrats to "JUST MOM"…you are the winner of this amazing give away from (in)courage! Check your email for details on claiming your prize! 

Thank you to all who entered, tweeted and shared…you are the best!
This month, DaySpring has special deals on items designed to celebrate Easter and the gift of God's amazing grace.
Through the entire month of April,
DaySpring is offering 50% off the Wonderful Grace carved wooden serving tray, and $10 off the Studio JRU Crosses and SDG Grace Hanging Tiles!
(In)Courage has some incredible deals going on this month as well, stop by their page and see all the simply amazing goodies they have, and while you are at it, use discount code SPRING25 for an extra 25% discount through the end of April!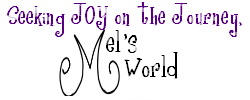 Disclaimer ~ I received this cross free of charge from DaySpring, in exchange for my review. I was not paid in any other way. The above opinions expressed, are mine and mine alone.