Speak to My Soul Devotional ~ You Do Not Have…
God has really been convicting me lately that part of being in the body of believers is not just to "be there" for others but to let others "be there" for you too.

Right now just about everyone I know is affected by the economy in one way or another. Let's face it, times are truly tough right now, and things are getting harder and harder. I know that this is just part of being in this world, but there are times when I just sit there and ask (beg is more like it) Him to bring us all home to glory.
I mentioned in a post called "
What do you do when the storms come
?" that our family has been in the midst of some serious storms lately. The very next day after I posted that devotional we were hit with yet another storm, and this one, though not dramatic at first, was just the last straw to an already stressful season for us.

My youngest son, Bailey, only wanted ONE thing this past year for Christmas (ok, let's be honest, he's a kid, he always WANTS more things) more than anything. He wanted an iPod Touch and thankfully his grandparents thought it was something they could (and would) get him for Christmas. He carried his iPod Touch around with him everywhere and used it all the time. That Sunday he took it to church with him to take his notes in and in his rush to get home and get outside with his friends he left it in his pants pocket.

Don't you hear the scary music coming in the background now?

You guessed it! Monday morning when I did the wash I didn't check his pockets so when it was time to move the clothes over to the dryer this is what I saw…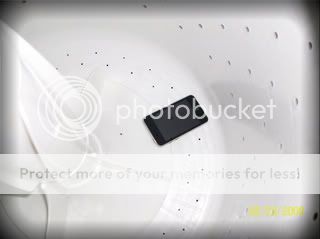 I just sat there and started to cry. On top of everything else that had been going on in our lives now our youngest son's most prized possession laid in the washing machine completely soaked and forever ruined. I can't even begin to tell you the shock, frustration, anger, fear, anxiety, sickness (I could go on and on) I felt and at that point I just broke down and cried.
My husband & I could not get over the amount of "stuff" that we have been bombarded with in the last couple of weeks and we sat there in disbelief that it seemed like it wasn't "over yet". At this point there was no way that we could possibly replace it and that's when I reached out to my friends on Twitter to ask them to pray for us. I am not even sure what exactly I said, but I know that it must have been sad and even depressing.
What happened next is nothing short of a miracle. I started getting "@" messages (tweets to me) and DM's (Direct Messages) encouraging me to keep my head up and to stay strong. Some where full of prayers, love, and support, then all of the sudden one of my"tweeple" (my twitter family) asked if they could "donate" some money to replace Bailey's iPod Touch. At first I was extremely hesitant…I've always been the one to "be there" for others and really struggle with accepting help from, well, just about anyone.

When all of the sudden the tweets started to take another turn…I started getting Scripture sent to me about how we are supposed to be there for each other, how a friend sticks closer than a brother, and then the kicker came; I got a DM from a twitter pal that said…"Melissa, you have not because you ask not" and that was the beginning of yet another amazing miracle. I like to call this one the Twitter Effect.

My friends on
Twitter
started to give and they gave BIG. My husband sat beside me in utter disbelief. He said, "How can people that don't even know us do something like this?" We both sat there in silence as the tears rolled down my face.

You see there are "
No Perfect People
" (as I wrote about last week) but this past week we have seen that people really DO want to make a difference and that people really DO care for each other.

Over the course of a couple of days they started a "
ChipIn
" collection for "I Washed My Son's Ipod Touch Fund" and with their donations we were able to collect $175 to put towards Bailey's iPod Touch replacement fund. Bailey chipped in the rest of the money (about $50) by doing some car washes around the neighborhood because he wanted to cover the difference since he was the one who left it in his pants pocket (he's learning a big life lesson with this). He's also learning that there are some really beautiful people in this world who care about what happens to others and they aren't afraid to show it in any way they can.
Today was a SPECIAL DAY in our house (I've been sitting on this post until it happened)! Bailey got a special package in the mail…
You guessed it…his NEW iPod Touch arrived in the mail and as you can see on his face he could hardly wait to open it up. We celebrated as we saw the goodness of people and the grace of God in action. We also (both of us) realized a valuable lesson in this whole thing too…
You do not have, because you do not ask God. (James 4:2b NIV)
Before I forget…Bailey & I (well, our whole family, to be quite honest) just wanted to take a minute to say THANK YOU! You have made a huge difference in our lives and we will never forget what you've done. There is no amount of money that can be given to replace the lessons of love, generosity, friendship, grace, goodness, and peace that you've brought to our lives.
We serve a great and mighty God and sometimes we ALL just need to remember that,
You do not have, because you do not ask God.
(James 4:2b)
Seeking JOY on the Journey,
Twitter Bird photo by Alexandre Lemieux in Flickr
Woman Praying Hands photo by Jesus_led_me in Flickr