Speak to My Soul Sunday's
Starting Sunday, January 27th, I will be hosting a new weekly devotional called,
Speak to My Soul Sunday.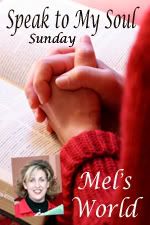 My favorite part about being in ministry is, was, and always will be Sunday mornings! I love people (I bet you would never have noticed, ha!) and each and every Sunday morning I would walk through the lobby shaking hands, hugging necks, visiting with friends, and praying with the hurting. I would pray that God would fill me up each and every Sunday so that I could pour out HIS blessings on those that HE chose to put into my path.
Well, now that ministry has changed for me a bit, I thought it was high time I got back to doing what I love the most…ministering to the people that God brings into my path on Sunday's. So….that is how "Speak to My Soul Sunday" was born.
It is my heart's desire to take a look at God's Good Word and see what He lays on my heart each and every week for us to discuss.

I would love it if you would grab this cute little button and post it on your blog.

It would be a big blessing to me to be able to reach, teach, lead, and grow the women that God continues to bring across my path.
You know what the cool thing is about that Sunday?…that same day (January 27th) I will be participating in the Bloggy Giveaway Carnival hosted by "
Rocks In My Dryer
". Mark your calendars ladies…they are hoping for over 500+ participants this time around! Yeehaw!
Getting ready,
Hey There…here's the code to put the button up for "Speak to My Soul Sunday's" on your site if you want to…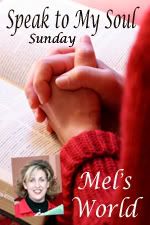 <a href="http://melissamashburn.blogspot.com/"><img border="0″ alt="Photo Sharing and Video Hosting at Photobucket" src="http://i263.photobucket.com/albums/ii135/MelissaMashburn/StmSSunday.jpg"/></a>